Please view the video below for more information:
40 INTERNATIONAL MODELS FROM AROUND THE WORLD WILL FEATURE IN SOUTH AFRICA - BLOEMFONTEIN
We are proud to announce Emoya Hotel and Spa is the Official Accommodation Sponsor to Host 40 International Models to compete in the 9th Annual World Supermodel Pageant from 14-21 March 2016.
Its Official, Model SA International and Emoya Hotel & Spa from South Africa will host the first World Supermodel International Fashion Show on the 16th March 2016 at Emoya Hotel & Spa in Bloemfontein as a prelude to the International Grand Finale on the 19th March 2016 in the Sand Du Plessis at PACOFS.
Officials from Model SA International and their Investment and Development Partners confirmed the news after securing the rights and outbidding strong favorites Hawaii (USA) and Sydney (Australia) to host the 9th Annual World Supermodel Production and celebrate this ground breaking event with the first ever International Supermodel Wedding Fashion Show in Africa
We are pleased to announce that the World Supermodel Pageant is taking a giant leap forward and moving the annual International event to South Africa 14-21 March 2016 with a spectacular show planned that will be aired on the Go Indie TV Networks and Amazon Fire TV to over 174 countries
After four fantastic seasons of unparalleled success at the luxurious "Pearl" 5 Star Resort in Fiji, we have decided to nominate South Africa as the next host country. The locals will be exposed to see various elements of the International Wedding Fashion Show, a World Class Production, the latest up-and-coming Designers from around the world as well as an exclusive slice of South Africa's International's Fashionable Elite.
This is a fantastic opportunity for local Designers and Companies in South Africa and surrounding regions to take part during this exclusive event and showcase their products and services to a massive national and international audience.
We look forward to continuing our great relationships with Sponsors, Designers, Press, and all of our Fans. World Supermodel CEO Mr. Gavin A Dooley along with his Directors Ms. Christine Hsu, Mr. Herc Karakostas, Ms. Terri Smith and the South Africa Team lead by Executive Producer Mr. Gert Mostert, along with his staff of Model SA International, are committed to making this International Wedding Fashion Show and World Supermodel Production a spectacular event.
Interested parties wanting to get involved as either a Sponsor, Fashion Designer, Service provider or Volunteer should contact the local office asap as there are limited positions - please call the local hotline +27 82 817 1718 or email direct ~ gertm@worldsupermodelsa.com / gertm@model-sa.com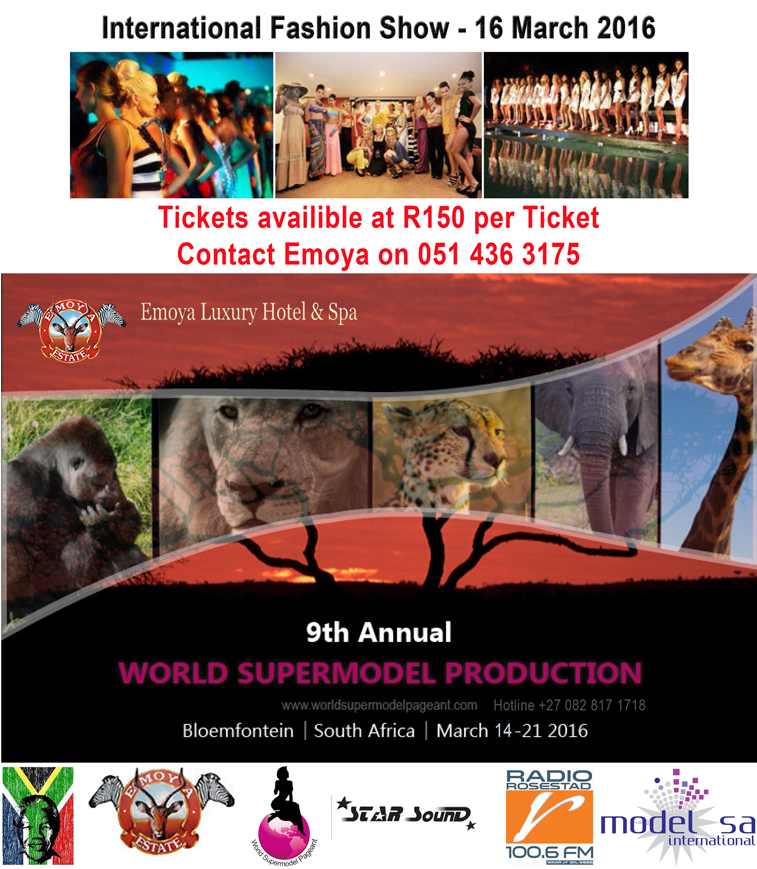 For further information, please visit www.worldsupermodelpageant.com / www.model-sa.com